31/01/2019 : Deaf Awareness Sessions
Milton Keynes
Buckinghamshire (GB018)
Tel 2019-01-31
Categoria Events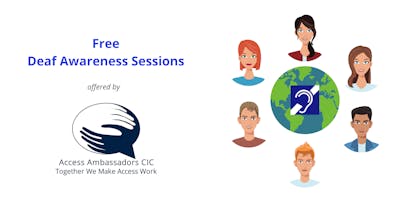 We are running a rolling programme of Deaf Awareness sessions to help Third Sector organisations in Milton Keynes become accessible and inclusive to people with hearing loss. Groups and charities interested in attending, need only attend one workshop session. These sessions are open to community groups and voluntary organisations. There are two places per organisation, on each training session Course attendees will learn about: - the different types of hearing loss - the barriers that prevent people accessing activities - different communication methods - how culture affects the perception of hearing loss - ways to remove barriers to make organisations are more inclusive - the benefits of being inclusive of deaf/hard of hearing people Organisations will receive a 'Deaf Awareness Kit' full of information, hints and tips on how to become more inclusive.
The kit will enable organisations to share newly-acquired knowledge with staff and volunteers. Organisations can book a second session to enhance their accessibility, by looking at making customer facing processes more deaf friendly. Why are we running these sessions?Organisations open to the general public often overlook deafness, because it is an invisible disability. This is despite the fact that globally, the World Health Organisation estimates that 1 in 6 people have some level of disabling hearing loss. For Milton Keynes, that equates to around 49,000 people. It is the second most prevalent invisible disability after arthritis. Hearing loss can lead to isolation as people withdraw from socialising with others. Communicating with others becomes 'complicated' and 'tiring'.
Isolation often leads to loneliness, depression and other negative health issues that cost our society around £6,000 per person in NHS treatment and social care. Families of people with hearing loss also experience social exclusion because events need to be accessible for everyone in the family, not just the hearing members of the family group What happens at the sessions? Sessions are fairly interactive. Attendees will participate in a number of exercises to gain a better understanding of the difficulties associated with communicating when you are deaf or hard of hearing.  We don't need training, we welcome everyone'Saying you are 'Deaf Aware' and being deaf aware are two different things. We want to instill confidence in our local community and enable access to activities so that Deaf* and hard of hearing people and their families feel part of the local community.  Community groups and organisations that attend our sessions will have their name and location added to our 'Inclusion Map' on our website.
*Deaf* refers to individuals who use British Sign Language and consider themselves part of a linguistic minority rather than having a disability. Networking: There will be an opportunity to network with other community organisations. Pictures/Videos: We may photograph or film some of the sessions for educational, quality or promotional purposes. We will also share these with Community Foundation who are supporting this project.