25/03/2019 : Instagram Ninja Advanced Masterclass Th March
Instagram Ninja - ADVANCED MASTERCLASS 25th MARCH 2019
Norwich
Norfolk (GB101)
Tel 2019-03-25
Categoria Events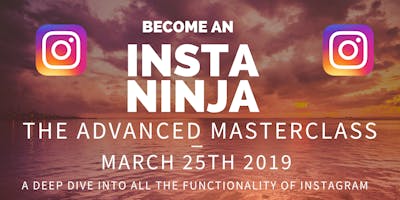 Instagram Ninjas - The advanced course.  If you have a great grasp of Instagram, but want to take your Insta life to the next level.. this is the course for you. In this course I will teach you more about Instagram Stories Instagram TV Instagram Advertising Facebook Shops and selling product on Instagram and lots more advanced techniques to supercharge your Instagram account. BOOK NOW- This will sell out fast. With 1 BILLION users, Instagram is the place to be right now. Your customers are on Instagram, and so should you be. Stuart Grant will teach you how to deep dive into Instagram. FAST.  He is not just good at it; he makes money and wants to teach you how to do the same. During the course he will teach you; How to use Stories to tell your brands story.  How to use all the features of stories - Text, augmented reality, location, hashtags, music and all the other functionality of stories.  Why you should be using Instagram T.V - and how to make the most of long form video on Instagram.
Why vertical video is so important and how to use it. How to use Instagram advertising and promotions.  How to use Insights  How to use direct messaging  How to sell product via Facebook on Instagram.  and lots more.  --------------- Maybe you have an account on Instagram but want to know how to take it to the next level? You are seeing everyone talk about it and want to know how to grow your account and how to increase business. This course will show you how. This course is designed to take you through the more complex aspects of Instagram. I will teach you how to use all the functionality that you may not have tackled. I will take you through how to read and interpret your Insights and use them to help grow your account.   I know my stuff..  I've written a book for Mark Dawson's Self Publishing Formula, entitled "Instagram for Authors" which is out now.  This course will not just be an 'OVERVIEW'.
This will be an advanced master class. It has taken 2 years of research and learning to understand how Instagram works, and I want to pass that information onto you. Previous attendees of my courses have said  Paul Jewiss of Irefresh Retreats said " I endorse this 100%. In the month since Stuart Grant gave me some Instagram training that has resulted in Irefresh luxury fitness retreats gaining three new business partners as part of our product." Charlotte Thornber of Taylor Investigations said: "I would consider myself as Instagram savvy however I hadn't thought of using the platform for my business. I went on Stuart's Instagram master class and I learnt a great deal of information I wasn't aware of. Fantastic course with great content and would highly recommend." Julian Wood of JW car contracts said " Stuart's course content is delivered in a sincere, succinct and clear way.
Techie stuff is simplified to be understood by non techie people. Lots of content and after support available so no one not left to flounder. I would certainly attend one of Stuarts courses again" Karin Caruthers of Scream Blue Murder said - "I found the course informative, fast beat, useful and done in a manner that anyone can understand. It was practical and interesting.. I would highly recommend anyone thinking of using Instagram to contact Stuart and ask him to put another course on. " Why not come along and find out how we can help to grow your account? *BONUS* You will also get access to an exclusive Facebook group where you will get support and advice plus extra tips from me. *PLUS* You will get a free 30 Day planner for Instagram to give you ideas of content you can use.  Date 25th MARCH 2019 Time: 3:00pm - 5:15pm Place: Sugarbeat Eating House, Norwich Free parking and refreshments included.
Instagram is the fastest growing social media platform, and there is a huge opportunity to reach more customers. Find out how on this course. This is the No.1 advanced Instagram course in the East of England. Probably.