24/02/2019 : Journey Into Colour
Worthing
Norfolk (GB101)
Tel 2019-02-24
Categoria Events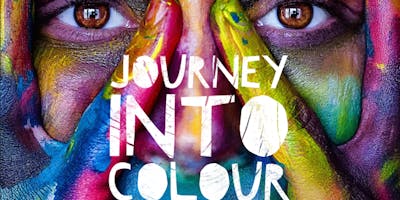 Hello and Welcome to our Workshop. This is a Fantastic Introduction to COLOUR and HOW it AFFECTS our lives. The next course as a follow up will be January at date which will be confirmed soon. Introduction: "The insight and understanding you will get from doing this course about colour will change the way you think and feel about yourself.It's like gaining a new brain. A new perspective on your life.Colour is a frequency and so are we and our frequency changes as we go throughout life.When you hear about this course it's at that right time as YOU are ready to learn more about yourself"-Suzeck Taylor Workshop Programme: Arrive at 9 am to start at 9.30 am. Introduction to "YOUR DAY" (the Whole Programme and follow ups ) and to your Teachers Morning Part 1. 10.00 am to 13.00  Objectives: You will choose colours which you are instictively drawn to.
Each colour on the Rainbow spectrum will be explained by way of EMOTION, MEANING, MYTHS, Posistives and Negatives of using the colours on the body in the form of crystals, sprays, clothes and objects. You will work energetically through the Rainbow colours of RED  Working through the "Energy Fields" YOU will discover more about your inner blocks and learn how you can work through them.                               HOW can coming to this WORKSHOP help you?         You will have some valuable tools for healing and introspection.   Colour Frequencies will have more meaning to you and can help you plan the colours around you to increase more favourable surroundings for living.  Giving you valuable insights into your emotions and challanges.                    . Deepening YOUR instinct (the knowing), for self discovery that confirms what you have been            feeling for some time.        . You will be able to use this in a everyday situation when you are feeling "stuck" or anxious.        .  Showing you the Positive Energies you already have but are not aware of.         Bio on Suzeck Taylor: My name is Suzeck Taylor and I am a Energy practitioner using Positive Mind Sets for Inside/Out Coaching I help people with confidence /self image and energy blocks that maybe affecting their life or business .  I have FREE courses are on line to help more people because I really do want the WORLD to be a better place.My background has over 30 yrs experience teaching in Holistic Diplomas which include Colour Therapy up to Diploma Level.My PASSION is helping people discover more about themselves through COLOUR and SOUND. My latest development is with sound therapy which has been added to my alignemnt and healing courses on Positive YOU Facebook page. If you would like to join my group please use this link: COPY AND PASTE https://www.facebook.com/groups/PositiveLife.biz/?fb_dtsg_ag=AdyODogIdylMdzNxRFn77t_iNOT5F1CIVXDTmvdOZ1dWeQ%3AAdygcgzUzmCOQStY67QtqlJK343ONOH2biEcVqhHwjDpow Email:
[email protected]
Afternoon Part 2: 13.00-  13.30/45 Approx. Lunch Break 13 30./45 to 16.45/17.00 Art therapy utilises the process of creativity, allowing you a greater understanding of yourself. We will use a mixture of guided and freestyle water colour painting to help you gain awareness of your mental, emotional and spiritual ways of being. In particular we will explore the relevance of colour and how to use this to create a reflection of ourselves and overcome issues we identify. Water is a conduit for emotions and so by using this medium we connect ourselves with what we are creating. Furthering the mornings exercises, we will explore the relevance of colour and how to use this to create a reflection of ourselves and work with issues we identify.  Without an attachment to the end result, we are free to play and learn from the joy of art. No painting skills or previous experience is necessary to benefit from this technique-simply bring yourself, an open mind and a willingness to experiment. Hedar Abid is a visionary Artist living in Worthing.Bio: Hedar undertook a year of training in Transpersonal Art Therapy at the Tobias school of Art in East Grinstead, where she learnt the wet-on-wet watercolour techniques used with clients today. In her own time she likes experimenting with mixed media and textiles, and is also a level two Reiki healer. Hedar believes in the powerful healing and tranformational ability of painting and feels that it helps us to open our hearts and express uorselves without judgement. Hedar is available for group workshops with adults and children. You can contact her at 
[email protected]
Additional Info:All equipment will be provided, but please bring a packed lunch with you. Watercolours generally wash out easily but maybe don't wear anything you're worried about splashing. If you wish to take your art home with you, you are more than welcome to do so. If you have any other questions, we are more than happy to answer - please get in touch via messenger. 
More Events For You