24/01/2019 : Community Tools Demo Sessions Comoodle Live Well York Co
Community Tools Demo Sessions: Comoodle, Live Well York & Co
York
North Yorkshire (GB103)
Tel 2019-01-24
Categoria Events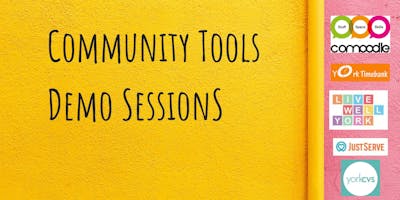 Calling all voluntary organisations, local residents, community groups, social enterprises and charities in York. Do you want to make new connections and raise awareness of what you do? Are you interested in how you can find out more about community activities, sharing 'stuff, space and skills' or finding volunteers/volunteering opportunities locally? Did you know that in York we have a toolkit of FREE easy to use online resources that can help you do this? Join us for the Community Tools Demo Sessions. Let's start 2019 equipped and ready to take social action. What's on offer? Our friendly group of experts will be on hand offering tailored one to one advice and demonstrations of the online community tools we have on offer Inspired by the findings of the inquiry into Civil Society we believe building connections is key to stronger communities here in York.
These sessions will be led in partnership with People Helping People, Comoodle, Live Well York, York Time Bank and York CVS. Find out how you can benefit from: York's online sharing platform Comoodle Live Well York, the information & advice  community website for adults & families Volunteering recruitment and opportunities through Just Serve York Timebank - a way for you to get involved in your community through exchanging skills & knowledge, & be rewarded for it – in time credits   By the end of this bitesize session, you will feel confident in getting logged on and spreading the word about how to effectively use these online platforms for positive change here in York. The essentials: When: Thursday 24 January 30 minute bookable sessions between 2-4pm Where: Lister training room – West Offices.
Just report to reception on arrival and one of us will come and greet you. West Offices is fully accessible. Need something extra? Just get in touch if you have any questions or specific requirements and we will do our best to cater for you. Email: Meg
[email protected]
or call 01904 621133 Limited sessions available. Book your Free 30 minute demo sessions now.