19/01/2019 : Film Dead Film Camera Workshop Mm Medium Format
'Film's not dead' Film Camera Workshop, 35mm & Medium Format.
Southend-on-Sea
Essex (GB052)
Tel 2019-01-19
Categoria Events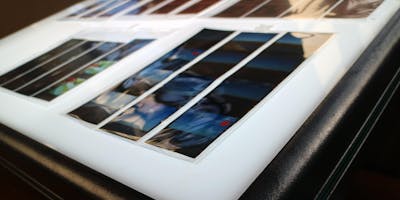 Francesca Maffeo Gallery is delighted to host a 1 day intensive 35mm & Medium Format Film and Film Camera workshop from Studio.284 on Saturday 19th January 2019  from 10.00-6.00pm.   Francesca Genovese will take participants through the following:  Introduction to Film Cameras, 35mm, Medium Format & Accessories.   Exploring exposure and metering light accurately (aperture, shutter, ISO) Understanding lenses and focal length. Introduction to Film Types (Black & White, Positive & Negative) and exploring film processing requirements eg working with expired film, cross processing and push/pull techniques. Post Production & Film Scanning Techniques. Price of the workshop includes: 1 x 35mm film 1 x 120 film Access to the use of 35mm/Medium Format cameras - however you are encouraged to bring your own kit.
Lunch & Refreshments. Additional film can be purchased directly on the day should you require more. Please email
[email protected]
if you have any queries.