12/09/2019 : Lisa Cassidy Soprano Somi Kim Piano
Lisa Cassidy -Soprano & Somi Kim -piano
Norwich
Norfolk (GB101)
Tel 2019-09-12
Categoria Events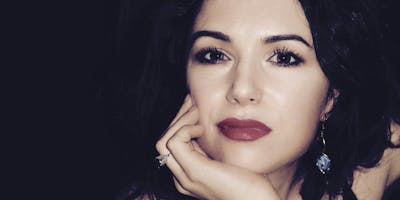 Assembly House Classical Presents Lisa Cassidy (soprano) & Somi Kim (piano) Programme The poet's echo Britten I. Echo II. My heart… III. Angel IV. The Nightingale and the rose V. Epigram VI. Lines written during a sleepless night Mr Tambourine Man Corigliano Forever young Corigliano Mélodies passagères Barber I. Puisque tout passé II: Un Cygne III. Tombeau dans un parc IV. Le clocher chante V. Depart C Francis Poulenc L'une d'avril Francis Poulenc Violon Francis Poulenc La bonne cuisine  Bernstein Plum Pudding Ox-Tails Tavouk Gueunksis Rabbit at top speed Lisa Cassidy Lisa Cassidy has gained an international reputation for both the singular beauty of her voice and her striking theatrical presence. Her recent work ranges from developing and performing contemporary classical works in Spain with Vertixe Sonora Ensemble to Opera and Steel as part of the Something Raw Festival at the Frascati Theatre in Amsterdam.
She was principle soloist in Undead and Other Tales in the Block Universe Festival at the Royal Academy of Art and, in 2018 alone, appeared in five prestigious Music Festivals as well as in concert at the Red House in Aldeburgh with the pianist, Somi Kim. Lisa also has considerable experience in Oratorio and Song, which she performs throughout the UK, recently appearing in the William Alwyn Festival in Aldeburgh with the actress, Eleanor Bron and the award winning violinist, Fenella Humphries. She received her Masters Degree with Distinction, is graduate of the Royal Conservatoire of Scotland and also a Britten Pears Young Artist. Lisa's ideal is for her music to be a journey towards connection and unity, summed up beautifully by Robert Henri: 'The object isn't to make art, it is to be in a that wonderful state which makes art inevitable.' www.lisacassidy.org Somi Kim South Korean born New Zealand pianist, Somi Kim has established herself as one of today's most highly regarded young pianists with a string of competition successes and an extensive concert experience.
Somi graduated from the Royal Academy of Music with an Advanced Diploma in Performance and Master of Arts with Distinction, receiving the HRH Princess Alice the Duchess of Gloucester's Prize, a DipRAM and the Christian Carpenter Prize for the Best Recital. Somi is the 2017 winner of the Royal Over-Seas League Accompanist Prize, and has received the Gerald Moore Award for Accompanists, AESS Patricia Routledge National English Song Accompanist Prize, Mozart Singing Competition Accompanist Prize, Bromsgrove International Musicians Competition Accompanist Prize, Vivian Langrish Memorial Trust Prize, Thomas Art of Song Accompanist Prize, Major van Someron-Godfery Prize for Accompanists, Concordia Serena Nevill and Barthel Prizes and the 6th Pettman/Royal Over-Seas League Arts International Scholarship.
Somi made her debut with Chamber Music New Zealand in 2015. Sought after as a chamber musician, song accompanist and répétiteur, Somi is an artist for the Kirckman Concert Society, Park Lane Group, Concordia Foundation and is a Yeoman of the Worshipful Company of Musicians. Somi is a scholar on the Britten-Pears and Samling Artist Programmes, Georg Solti Accademia, and is a staff pianist at the International Holland Music Sessions, International Vocal Competition 's-Hertogenbosch and the Gisborne International Music Competition. This year, Somi makes her debut with NZTrio as a guest pianist for their 2018 season, a piano trio that is recognised as a 'national treasure' and as 'New Zealand's most indispensable ensemble'. In recital, Somi's recent and future appearances include Het Concertgebouw, Slovak Philharmonic, Wigmore Hall, St.
John's Smith Square, Cadogan Hall, Bridgewater Hall and the Edinburgh Fringe, Ryedale, Endellion and Oxford Lieder Festivals.