12/01/2019 : Warhammer Monthly Doubles
Warhammer 40,000 Monthly Doubles
Southend-on-Sea
Essex (GB052)
Tel 2019-01-12
Categoria Events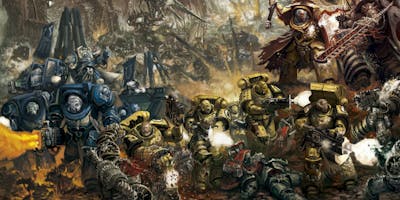 This is a one-day event that costs £15.00 to enter. Tickets may be ordered online (see link below) or purchased in store. This event has an attendance cap of 12 Teams. Ticket availability cannot be guaranteed on the day however the event will be marked as sold out as soon as all tickets are sold.Players will need a team mate and each player will need a 750pt Standard Army to take part (max 2 detachments). Army building restrictions You may not share your points if you dont use them all they are lost. No penalty for teaming up with an army that is usually a forbiden ally. The Tournament will also use the latest FAQ update which you can find here: https://whc-cdn.games-workshop.com/wp-content/uploads/2018/04/warhammer_40000_The_Big_FAQ_1_2018_en.pdf We will be using the latest Chapter Approved.
Where is the event?The event takes place at the Wayland Games Centre, Hockley and will be run in the gaming hall. Players should report to the Store Reception upon arrival, for registration with proof of purchase.Schedule for the day- 10:00 - 10:45: Venue open & Registration- 11:00 - 13.00: Round 1 - Random Eternal War Mission- 13:00 – 13:30: Lunch- 13:30 – 15:30: Round 2 - Random Maelstrom Mission- 16:00 – 18:00: Round 3 - Random Open War Mission- 18:00: Prize giving and event round up.What do you need to bring?Players are responsible for bringing their own:- Rules manuals- Templates- Tape measures- Tokens- Dice- The models for the army they will use throughout the day.- Two copies of the your army list. One should be handed to the - - Tournament Organizer before the start of the first round.How much is the event and what's included?An event ticket costs £15.00 per team.
Prizes come from the prize pool with awards for first and second places and best painted unit of 3 or more models.