11/02/2019 : Scst Diploma Ecg Interpretation Course Birmingham February
SCST Diploma in ECG Interpretation Course - Birmingham - February 2019
Birmingham
West Midlands (GB142)
Tel 2019-02-11
Categoria Events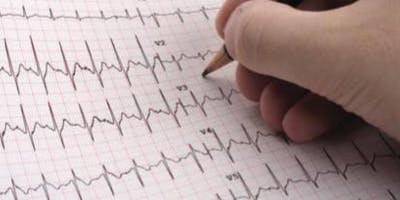 This is the professionally recognised course for all those who are reporting on both 12 lead and ambulatory ECGs. This is designed as a preparation course for those planning to sit the Diploma in ECG Interpretation examination. It is suitable for associate practitioners, cardiac scientists, specialist nurses, doctors and any other healthcare professionals wishing to demonstrate skills and knowledge beyond Certificate level. Examination for this award is in the form of a 3 hour written paper, registration form available through www.scst.org.uk or by emailing
[email protected]
The course covers the entire syllabus which can be accessed here: http://www.scst.org.uk/resources/3C6_Dip_in_ECG_Interp_required_knowledge_May_2016.pdf Course structure The 3-day course will start with basic ECG theory and terminology and go on to define the normal ECG.
Teaching will proceed by clinical category, such as tachyarrhythmias, bradyarrhythmias, chest pain syndromes, drug and electrolyte effects, morphological abnormalities, basic pacing and sudden cardiac death/syncope syndromes. Learning will progress by integrating ECG features and clinical presentations in a structured approach to differential diagnosis. The complete teaching package will comprise: Pre-course reading on ECG theory 3 days' teaching Course manual/revision guide Workbook of classroom exercises 1 month of post-course social media support  All refreshments and lunches are included in the course fee. Course Cost The cost of the three day course is £620. Members of SCST are able to access a discounted rate of £570 on confirmation of their valid membership number.
Further information A multiple choice examination will be available (at additional charge) approximately one month post-course, and twice a year thereafter,  to assess competence in ECG interpretation at the level described. Success in the exam will lead to the awarding of the SCST Diploma in ECG Interpretation. The Examination will be held in Birmingham in March 2019. Application form for this is available at:  http://www.scst.org.uk/pages/page_box_contents.asp?pageid=760 Course Content Lead  theory and nomenclature The normal ECG, including normal variants Calculating QRS axis Tachyarrhythmias: APBs and VPBs ANNRT, AVRT and atrial tachycardia Accelerated AV nodal rhythm Atrial flutter Atrial fibrillation Ashman phenomenon Accelerated idioventricular rhythm VT and VF Bradyarrhythmias and conduction disturbances LBBB and RBBB 1st, 2nd and 3rd degree AV block Escape rhythms Sinus node disease Myocardial ischaemia and infarction Prinzmetal angina Pulmonary embolism Pericarditis and myocarditis Left and right ventricular hypertrophy Left and right atrial abnormalities Atrial septal defect Hyperkalaemia and hypokalaemia Hyperventilation Metabolic disturbances Wolff-Parkinson-White syndrome ECG effects of drug therapy and toxicity Simple pacing Dilated cardiomyopathy and cardiac amyloidosis Sudden cardiac death syndromes Long QT syndrome Brugada syndrome Arrhythmogenic RV cardiomyopathy Hypertrophic cardiomyopathy Early reploarisation syndrome Error and artefacts This course is not aimed at healthcare professionals in Primary Care - please email
[email protected]
for details of the SCST workshop on ECG Interpretation in Primary Care.
  FAQs Do I need any prior ECG knowledge? Some prior knowledge and experience of ECGs would be advantageous but we do supply pre-course reading material on ECG theory and the course starts by covering all the fundamentals. What are my transport/parking options for getting to and from the event? The BCEC is located in the heart of Birmingham's city centre, just a minutes' walk from Birmingham New Street station, with easy access by car and bus.  Further details can be found at https://www.thebcec.co.uk  Is accommodation included? Lunch and refreshments are provided.  Accommodation is not included in the cost of the course as delegates may require accommodation of differing standards.  Delegates can book their own accomodation on site (https://www.thebcec.co.uk/access-to-hotel-rooms) or alternatively Birmingham has a wealth of hotels over a range of prices which can be accessed through any of the well known booking sites.
How can I contact the organiser with any questions? Email
[email protected]
with any queries. Important payment information - full payment is required prior to commencement of the course.  Please see ticket information for further details. Refund Policy - please note that refunds cannot be given for cancellations made within 30 days of the course start date.   Cancellations made 30 days or more before the start date will incur a cancellation charge of £150.  If you wish to cancel a booking please contact
[email protected]
directly.