9/03/2019 : Deepening Meditation Practice Community Workshop
Deepening our Meditation Practice in Community (workshop)
Norwich
Norfolk (GB101)
Tel 2019-03-09
Categoria Events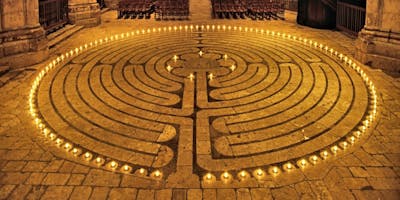 A facilitated journey on the path of centering prayer This workshop will be structured around the first half of David Frenette's book 'The Path of Centering Prayer'. It will be an opportunity to renew our practice and explore some fresh insights. Open to both for those new to centering prayer and experienced practitioners - ideally you will have attended the earlier Centering Prayer introductory day. It will also offer fresh perspectives for people who have a different form of meditation - all welcome. The workshop will be facilitated by Liz Day, who has been practising centering prayer for 16 years. She has offered and taken part in many centering prayer workshops, groups and retreats over this time, and has studied with national and international teachers. Liz says: "I recently offered this over 8 evenings, and it went so well that I'm running it again as a one-day workshop.
It proved to be a deeply enriching experience, for all of us I think - looking at some of the more subtle nuances of Centering Prayer, and reflecting on our own experience of contemplative practice through the eyes of a master practitioner." "I'm looking forward to recapping the material in this workshop format, and unpacking it further. We'll be looking at some practical topics such as how to deepen our practice with the sacred word, and how working with one of the other sacred symbols might fit where we are on our individual journey. We'll also be dancing around the general theme of contemplation as a gift of grace - feeling our way into subjects such as the Trinity, self-emptying (kenosis) and deepening our consent - our yes - to God in prayer."  The workshop will combine short presentations, contemplative time in silence, some simple chanting, and space for heart sharing.
A simple soup lunch will be included, as well as tea and coffee.  This workshop is offered on a gift basis - pay what feels right for you. We are asking for a £15 payment up front as a token of commitment and to reserve your place - this can be revised, up or down, on the day. For those new to centering prayer - it is a non-conceptual, silent meditation practice, originally pioneered by Trappist monk Fr Thomas Keating in the 1970s. It is now practised by thousands of communities and individuals worldwide - including 12 step recovery groups - and an organising body called Contemplative Outreach provides support and resources. Feedback from the 8 week learning journey:  "I think Liz's presentation of these evenings was excellent. She was highly intuitive and sensitive to everyone in the group - demonstrating a real wisdom when dealing with difficult questions." - Dot Lenton "I really enjoyed the 8 weeks.
I think Liz is very skilled at holding the space and keeping a balance between our contributions and the plan for the session. It felt respectful and loving and I didn't feel inhibited about joining in, even though my experience was been very different to that of most of the other participants. I really valued being part of this loving, accepting and thought provoking group." Penny Marais "This group was invaluable to me - the practice, conversations, explanations, silence and quite deep sharing for a newly formed gathering. Above all I think it was the sincere intention from everyone to seek. Thank you Liz for your generous leadership; without a 'know it all' perspective but what felt to me like a genuine shared journey." Lynne Davies About David Frenette's book:  Practising centering prayer awakens one to deeper meaning, as life itself becomes a spiritual journey.
With centering prayer and Christian contemplation, God becomes a living reality instead of just a fundamentalist belief. This book on the subtleties of contemplation and centering prayer reflects what I have searched for in my own life: the knowledge of how to better discipline yourself, what to do in practice as the contemplative journey deepens, and how to say yes to the transcendent mystery of life and God. - David Frenette ​David's primary spiritual gift is in bringing forth new dimensions and nuances of contemplative practice... This is an extremely important endeavour, for a spiritual tradition stagnates unless it continues to breathe new life into itself with resources appropriate for longtime practitioners, new generations of seekers, and changing social conditions.
This book in my view is the best, most comprehensive and most practical book on centering prayer. - Thomas Keating For more information about Centering Prayer:  www.contemplativeoutreach.orgwww.contemplativeoutreach.org.uk Any questions, contact Liz on07951 928877 or 
[email protected]