Portsmouth
Lancashire (GB078)
Tel 2019-04-07
Categoria Events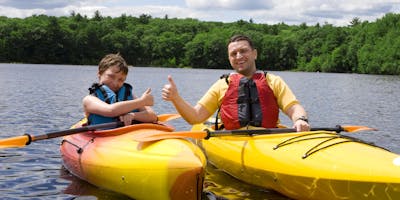 Description About the activity Have fun at ASWC Portsmouth. There is so much on offer at this amazing venue, however we will be focusing on Kayaking and/or Paddle boarding. You will have a fun session of both sports during the two hours. Try your hand at Kayaking, with experienced instructors helping you, take a ride around our waters at Langstone Harbour. Learn new skills and boost your confidence on the water. If that doesn't quench your thirst, then test your balancing skills at Paddle boarding, sit or stand. For more information on these activities, please visit their website. You don't need to be able to swim, but must be water confident. This activity is suitable for children aged 7 and over. There is no height or weight restrictions as this activity is also suitable for adults, however you must be able to wear a buoyancy aid.
Please feel free to bring your own drinks and snacks. Although you can wear a wetsuit, if this isn't your cup of tea, then please ensure you wear sensible clothing and footwear. It is advised you wear old trainers. Everyone will need to wear a buoyancy aid. At just £8 per person, this activity is suitable even for the most adventurous parents. Why not make a day of it and explore the surrounding areas such as Southsea Pier and Arcades, Canoe Lake or take a trip up Portsdown Hill. Cost £8.00 per person participating (both for children/young adults and their carers) At FASS, we fully understand that at times it can be difficult for our children to interact with others within a controlled environment. Although FASS co-ordinate and provide access to activities and take every precaution to prevent risks through our Safeguarding Policy, we however do not hold any responsibility for the safeguarding, welfare or behaviour of any individual including children. We expect parents and carers who use our service to adequately supervise their own children to ensure that every member using our service are able to play fairly, happily and safely. You need to be a member of FASS to book onto this activity. As of 25th May 2018, FASS has upgraded it's membership system. Therefore, if you joined before this date, you will need to renew you membership (before you try to buy tickets) for free via our website www.fass.org.uk How to book Please click the green box labeled 'Tickets'.  In the 'pop up box' labelled promo code, please type the email address you used when signing up on our new membership system. If you have any issues concerning booking or membership, please contact FASS on 
[email protected]
*Target children are those with or suspected of having Autism. Please provide a gateway number if you have one.
More Events For You