7/02/2019 : The Use It Conference Unlocking Inclusive Growth Birmingham
The USE-IT! Conference - on unlocking inclusive growth in Birmingham
Birmingham
West Midlands (GB142)
Tel 2019-02-07
Categoria Events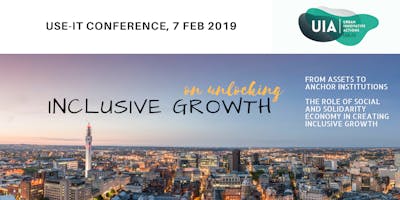 Along with the need for achieving inclusive growth, the debate about HOW to do it becomes more pertinent for Birmingham. For the last two years, the USE-IT. project has been testing a series of place-based interventions, bridging the typical divide between infrastructure support and bottom-up community funding. We believe that this type of intervention was missing. What's more, if executed properly, it has a positive impact on an entire area. We have concentrated our support around large assets and anchor institutions, and worked hard to connect them with communities living around them. More importantly, we have ecouraged and empowered local communities to unlock the opportunities around them. By linking communities to regeneration projects we aim to ensure that large developments happening locally benefit people living in the area.
The last two years of working together as a partnership of 15 organisations yielded fascinating results and new ways of communicating and new ways of collaborating on the goal that brought us together: a fair and inclusive city for all its residents. We don't claim to have all the answers, but we want to share what we've learned while the project is still running, to create an opportunity for collaboration and further learning.  Please join us to listen to our story; use the day as an opportunity to engage in the debate about unlocking inclusive growth for Birmingham.    In the morning we will talk about project activities, the challenges encountered, and how we coped with them. This will be followed by a lunch break where you will have the opportunity to meet some of the USE-IT community (community researchers, doctors with overseas qualifications, social entrepreneurs and people in the local communities we have worked with).
In the afternoon, we will take some time to reflect and debate the outcomes of the project, discuss them with a panel of guests, and engage in a debate about policy and implementation challenges around the role of anchor institutions as well as social and solidarity economy. PROGRAMME 10.30am - 10.45: Welcome   10.45 - 11.00: Matching job skills in the community with demand - our experience of working with and within the NHS, success stories and lessons learned, including testimonials from doctors with overseas qualifications 11.00 -11.15: Social Enterprise and Social Production – successes and lessons learned, including feedback from social entrepreneurs who have been on our programme 11.15-11.30: Community Research - successes, lessons and what next, incuding feedback from community researchers 11.30-11.45: Understanding and strengthening community assets and finance -  our journey so far and what next? Lunch – SHOWCASE - opportunity to speak with people who have been on the programme 13.00-13.10: Welcome from Jonathan Tew, BCC - implementing inclusive growth project  13.10-13.20: USE-IT.
 Film  13.20-13.35: Have we unlocked inclusive growth? - first results of project evaluation by CLES 13.35-14.05: Discussion panel  - connecting macro assets with micro assets 14.05-14.45:  Focus groups: From Assets to Anchor Institutions The role of social and solidarity economy in creating an inclusive economy and tackling poverty 14:45 - 15.00: Summary of discussions in focus groups and invitation to further collaboration 15.00: End Click here to see the video about the NHS skills matching.  USE-IT partners: