7/02/2019 : Recruiting Right People Right Roles Norwich
Recruiting the Right People for the Right Roles - Norwich
Norwich
Norfolk (GB101)
Tel 2019-02-07
Categoria Events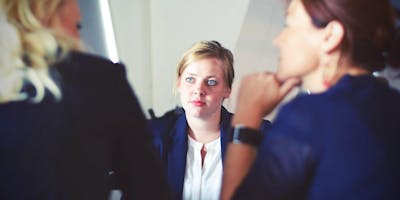 Recruiting the Right People for the Right Roles "Do I recruit someone with experience or do I take on someone I can mould into the role?" Many business owners face this dilemma when it comes to recruitment. Recruiting can absorb a lot of time and getting it wrong can be costly. This workshop aims to remove any fear you may have when it comes to recruitment and provide some practical ideas you can implement to building a winning team as you grow. Who is this course for? This course is designed to help those that are responsible for attracting, hiring and managing new staff. Whether you are looking to take on your first employee or looking to ensure you are doing it right, but you are not an HR professional, then this workshop may be useful for you. The course starts with the basics but extends to detail that would be appropriate new and more experienced hirers who may not have HR backgrounds or support.
This course, as with all the New Anglia Growth Hub events, is suited and intended for businesses already running and established for 6 months or more. Please refer to courses by NWES and MENTA for courses more suited for those businesses who are pre-start or have been trading for less than 6 months. What you will need We recommend bringing a pen and notepad to capture notes on the day. Some attendees choose to bring a laptop but this is not required as all exercises will be done in a group format on the main screen where required. Please note, we cannot guarantee WIFI access on the day. You will get the most from the course if you come to the course with an idea of how you intend to or already recruit.   Key Topics Covered on the Day: Understanding how to plan your staff for your business's future  The importance of company and staff values and culture How to define individuals roles in the company How to attract the right people for your business  How to manage the recruitment process What are the keys to a successful team How to ensure you set out expectations to you and your staff How to ensure 100% inclusion Managing the appraisal process correctly and its benefits Desired Outcomes: Understand whether it is right to recruit for your business Understand the importance of Job descriptions and person specifications Understand the importance of setting expectations How to manage the recruitment process correctly  How to manage a successful team How to start the management of people going forward.
Agenda for the Day 9:00 – 9:15 Registration and tea and coffee 9:15-9:30 (15 mins) The New Anglia Growth Hub, How can we help?* 9:30 – 10:45 (1 hour 15 mins) Structuring your team based on where you want to be in the future * The importance of values and culture* Defining roles* Attracting the right people* Recruitment process: Deselection* 10:45-11:00  Break 11:00 – 12:45 (1 hour 45 mins) 6 keys to a successful team* Setting out the rules of the game* 100% involvement and inclusion* Appraisal process*  12:45 – 13:00 (15 mins) Q & A* This event is 4 hours in duration and will provide 3hrs and 30mins of Information, Diagnostic and Brokerage (IBD*). This is equivalent to £175 worth of State Aid (196.33141 Euros (1.12189 Euro to the £) as at December 2018).
We are able to deliver this is free of charge to you with thanks to funding from the European Regional Development Fund. About the Training Organisation Philip Budd from ActionCOACH As an ActionCOACH, Philip supports business owners to take action to deliver change that will help them deliver the growth in their business and help them achieve their goals and dreams.  FAQs I would like to book for more than one person from my company? Due to the popularity of these events, we are only able to allow one person per company to attend. However, please email
[email protected]
, if you wish a colleague to attend as well and if we have cancellations we will notify you immediately in a first come, first served basis to offer another ticket. What are my transport/parking options for getting to and from the event? The Space is easily found and accessed just off Norwich's main ring road.
Details of parking and public transport can be found below, however, should you require any further information about parking and transport that is not included below, please contact us directly. Norwich Station: 2 miles City Centre: 2 miles Norwich Bus Station:  3.5 miles Please note that Google Street View is out of date and shows The Space as Fabric Warehouse Address: The Space, Roundtree Way, Norwich NR7 8SQ Parking is available for 45 cars on the premises with overflow parking within a few minutes walk for up to 150 guests during office hours.. Public Transport Bus routes from the city centre Option 1 Take the Number 19/19A/20 bus (depending on time of day) heading towards Heartsease from bus stand B on Castle Meadow. Get off the bus on Rider Haggard Road, Heartsease (opposite Skelton Road).
From Ridder Haggard road, whilst facing Skelton Road, turn right onto Heartsease Lane. Continue along Heartsease lane until the road becomes Mousehold Lane, then take the first right onto Roundtree Way after passing Homebase. Keep walking down Roundtree Way until you find the Space on your right. Option 2 Take the number 11 bus heading towards the Sprowston Tesco from stand 3 on Red Lion Street. Get off the bus on Sprowston Road outside the Brickmakers pub. Head towards the roundabout and then turn right onto Mousehold Lane. Keep walking along Mousehold Lane and head past the service station, eventually on your left should be the war memorial cottages, take the next left after this which is Roundtree Way. Walk down Roundtree Way until you arrive at the Space on your right. Option 3 Take the number 24/24A bus heading towards Sainsbury's in Thorpe St Andrews from bus stand B on Castle Meadow. Get off the bus on Plumstead Road opposite the Heartsease pub. Head towards the roundabout and turn left onto Heartsease Lane. Keep walking along Heartsease Lane until the road becomes Mousehold lane, head past Homebase and then take the next right onto Roundtree Way. Keep walking down Roundtree Way until you arrive at the Space on your right. How can I contact the organiser with any questions? Please email
[email protected]
if you have any questions or queries. What will be done with the information I supply? Your information will be stored on Eventbrite according to Eventbrite terms and conditions. Upon arrival you will be required to sign in on our attendance sheet, to provide evidence of your physical attendance, state aid and feedback form for the event, and if we are missing of the key data, such as company name, address contact number a form to collect this missing information. This will be kept on the server as evidence for our ERDF funding for the length of the contract evidence requirements. After your attendance will be stored on the secure Growth Hub CRM system. This is required in order to provide evidence of your attendance and eligibility for the course. This will be kept to the statutory dates any only accessible to Growth Programme and authorised personnel. If you request further contact from an adviser post this event they will use this information to contact you and log any future interactions, again to evidence for ERDF funding. Your information will not be given to any third parties without your permission. However we will share your details with our trainers if you tick the sign in box next to your signature upon signing in, so they are able to contact you should you wish them to. Any paperwork completed by you for the course, you are welcome to have copies of upon request. State Aid Declaration This event is delivered, free of charge, to SMEs (SME is defined as an Enterprise with fewer than 250 employees and has either an annual balance sheet not exceeding 43mEuro or Annual Turnover not exceeding £50m) other restrictions may apply. This support is being provided as de minimis aid under EC Regulation 1407/2013 (De Minimis Aid Regulation). The value of this support has been calculated as  £175 or 196.33141 Euros (£1 = 1.12189 Euro as at Dec 18). Please note: This is not a request for payment; we are merely required to notify you of the value, which will be relevant if you wish to apply or have applied for any other de minimis State Aid in the future. There is a ceiling of €200,000 for all de minimis aid provided to anyone organisation over a three fiscal year period (i.e. your current fiscal year and previous two fiscal years).