6/04/2019 : Samosa Saturday Connecting Professional Women Sat Th April
Samosa Saturday - Connecting Professional Women Sat 6th April
Birmingham
West Midlands (GB142)
Tel 2019-04-06
Categoria Events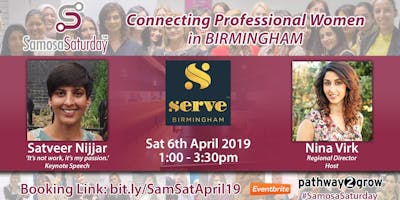 Pathway2Grow would you like to welcome you Samosa Saturday ladies open networking in Birmingham. We aim to provide a relaxed and informal networking environment where delegates can mingle before guest speaker presentations on topics of interest to anyone seeking self-development & personal and business growth. Attendees are given the option of introducing themselves with a one minute intro to the rest of the floor, however, there is absolutely no pressure to do so. Agenda 1:00 - 1.30pm - Welcome and Open Networking over Samosas 1.30 - 2:00pm - Introduction and 60 second introductions 2:00 - 2.45pm - Keynote Speaker - Satveer Nijjar "It's not work, it's my passion." 2.45 - 3.30pm - More Networking (over ping pong if you like) and Video Testimonials Keynote Speaker - Satveer Nijjar "It's not work, it's my passion." Satveer has had a passion for reducing stigma around mental health since she herself became affected.
 In 2018 she won the public vote for 'Most Inspirational Person of the Year' 2018 at the Midlands Business Community and Charity Awards. Her experiences as a patient and more recently as a parent of a child with mental illness have helped shape her career. Her main focus is upon improving understanding of, and response to self-harm behaviours.   After beginning with the Royal College of Psychiatrists in 2006 on the Better Services for People Who Self-harm Project she was quickly supported in providing her own lived experience at conferences and then within training courses.  In 2012 she graduated with a First-Class Honours in Psychology, winning the Bernice McAuley Memorial Prize for her dissertation on self-harm and the role of culture.  From this point her focus became on the creation and delivery of sessions on self-harm awareness.  Over the last 6 years she has successfully setup her business named 'Attention Seekers Training'.
 Through the business she delivers her own CPD Accredited Self-harm Awareness course nationally alongside PSHE/PDC student sessions, parent awareness sessions, conference talks and workshops.  Though the majority of her deliveries are for education-based staff and students, she also delivers to housing staff, doctors, nurses, social workers among others.  The sessions are consistently met with excellent feedback with specific comments referring to the delivery style, relevance and enjoyability of the course. Satveer has spoken at numerous local and national conferences including those for the Boarding Schools Association, Royal College of Psychiatrists, RCEM, Scottish Independent Schools Council, MHFA, Samaritans, Head Talks. Satveer was also recently featured in Natasha Devon's best-selling book 'A Beginner's Guide to Being Mental'.
Satveer is also featured in numerous online videos promoting self-harm awareness, been featured in documentaries and has written articles.  The key for Satveer is combining lived experience and academics to provide robust sessions that remove the taboo of self-harm and suicide to not only increase the confidence of professionals in providing support but also for those who self-harm to feel empowered to seek support. About The Event Pathway2Grow's "Samosa Saturday" is a relaxed, friendly and informative B2B networking event for Professional Women centred around empowerment, self-development, personal & business growth. Each event we provide a high-quality Guest Speaker who presents on a topic of interest to anyone seeking success in their life and business.
We encourage all our guests, whether it's their first time or not to introduce themselves to the rest of the floor with a one minute intro during our "Pitch Perfect" segment, however, there is absolutely no pressure to do so. We believe in building a close community both at our events as well as online with plenty of ongoing opportunities to converse and share with a WhatsApp group (send a message to 07834 911 973), Facebook Group and also on LinkedIn: www.Facebook.com/pathway2grow www.Facebook.com/groups/SamosaSaturday/ www.Linkedin.com/groups/8243224 So come and join us to #Network & #Learn #Grow. Kindest Regards,Nina Virk, Regional Director for Pathway2Grow's Samosa SaturdayT: @GrowandGloCoachM: 07834 911 973 P.S Don't forget to follow us @Pathway2Grow