5/03/2019 : Annual Conference
Annual Conference 2019
London
London (GB085)
Tel 2019-03-05
Categoria Events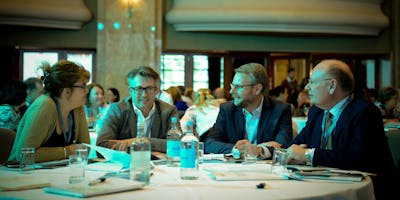 Customer Service 2019: Purpose, Relevance and Impact - Navigating the new reality The Institute of Customer Service Annual Conference is the biggest forum for customer service thought leadership and best practice in the UK. The event draws hundreds of service professionals and business leaders together to learn from examples of global service excellence and share best practice.   Programme: Criticality of service for the new world stage Jo Causon, CEO, The Institute of Customer Service Jo outlines the criticality of customer service for a successful transition into new markets and discusses the importance of maintaining purpose and keeping relevant to seize new opportunities. Ideal for those looking to keep perspective and who need to reinforce the importance of customer service as a strategy for success in the new economy post Brexit How to stay relevant to a changing and emerging customer demographic Derek McManus, Chief Operating Officer, O2 Derek explains how O2 has remained relevant to a growing and changing customer-base and looks at different approaches organisations can use to satisfy future customer demands.
Ideal for those wanting to understand how to keep ahead of demand from an organisational strategic standpoint as well as from the service delivery perspective Crossrail: Imagining success, creating greatness Sir Terry Morgan MBE, Chairman, Crossrail   Terry explains how to remain focused on purpose, how to keep relevant and the importance of staying aware of impact when there is no certainty on the horizon. A masterclass for anyone deploying a long-term or multi-option strategy to combat the uncertain economic landscape while keeping customers onboard How to remain relevant in a changing marketplace Jamie Cole, Vice President Digital & eCommerce, Mandarin Oriental Hotel Group Jamie explains how digital extends relationships and impacts customers.
He discusses how to react to challenger brands and gives his take on how geeky tech today is tomorrow's mainstream. For anyone needing to make the case for more digital inclusion to enhance service reputation and for those affected by competition from challenger brands Resilience from relevance – a positive retail experience Ben Fletcher, Managing Director, Clarks Ben shares his experiences of keeping an established brand nimble enough to react positively to market changes, especially when hit with cost pressure, price resistance and online competition. Everyone is facing these three challenges, so why not benefit from the experience of a successful case study in how to succeed despite the odds, and see how much you can deploy in your own organisation? Embracing customer power to achieve positive change Liv Garfield, Chief Executive, Severn Trent Water    With customers becoming more powerful, competition more open; and environmental aspirations at the forefront, Liv looks at the impact on measurement, impact for stakeholders and how the economy impacts the success of an organisation.
This is for those facing the conundrum of establishing what customer demands will be, in what economic climate and how social conscience will affect customer choice  The Real Debate – What is the purpose of business: Does business exist for its customers or its stakeholders Matthew Upson, Policy Director, Citizens Advice  Sarah Threadgould, Group Marketing Director, Which? More speakers to be announced Does UKplc have the balance right and should those who have the least, pay the most, for access to products and services or are shareholder dividends the primary driving force generating jobs and fuelling the economy? Ideal for anyone charged with justifying pricing policy or establishing their social credentials to a changing or evolving customer base.
Will your mind be changed? The changing face of organisational purpose Angela MacDonald, Director General Customer Services, HMRC   Angela shares her views on organisational purpose and the part this plays in a modern economy, relating the importance of the public sector recognising its service users as customers and how purpose needs to change in response to new customer expectations. This will serve to support anyone determined to put customer service at the heart of its operations and makes the business case for change Here today ... here tomorrow. A simple formula for continued success Sir John Timpson CBE, Chairman, Timpson   Sir John Timpson has played a key part in helping Timpson change, survive and flourish. He reveals the secret behind its customer service success, which defines the company culture and will do for many years to come.
This will reinforce the case for those who believe that customer service will be the key differentiator in any economic environment – especially when underpinned by strong business morals Please note that the programme is subject to change Cancellation policy: More than 90 days before the conference - Full refund; 61 – 90 days before the conference - 75% refund; 31 – 60 calendar days before the conference - 50% refund; Less than 30 days – No refund but ticket is transferable