2/02/2019 : Southern Rocks Moved Basingstoke
Southern Rocks 2019 (has moved to Basingstoke)
Basingstoke
Hampshire (GB061)
Tel 2019-02-02
Categoria Events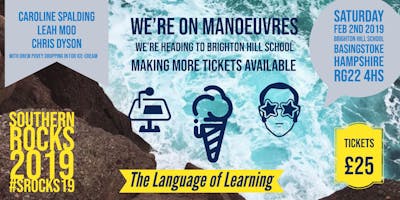 David and Kristian kindly invite you to Southern Rocks 2019 or #srocks19. Now at Brighton Hill School (Basingstoke). Our "teachers for teachers" conference has an all-through focus and highlights some of the key questions around meeting the needs of all learners. This years theme: Language of Learning To keep you happy, our CHO (Chief Happiness Officer) has a number of "Golden Tickets" to issue, tickets with hidden goodies. We want you to know you are appreciated.What is more we will have some seriously amazing prizes held back for the event day. Tickets Always use individual names and postcode if you are buying more than one ticket. Your ticket gets you 3 opening keynotes / energisers, 4 teacher led sessions, lunch, a visit to Dylan's craft real dairy ice-cream van (we hope Ben can join us at our new venue) and light refreshments throughout the event.  We know you are busy people and so we will try and keep communications to a minimum.
Looking forward to meeting you all We are looking forward to welcoming you. We are really keen to extend our reach beyond social media, so do mention the event to your colleagues over a cuppa in the staffroom or during staff brieing.  Speakers confirmed so far Hosted by David Rogers and Kristian Still  Caroline Spalding · Leah Wright · Chris Dyson Over 40+ sessions have been submitted already, it will leave you with a few selection dilemmas for sure. Everyone has given up their time graciously, thank you. FAQs What are my transport/parking options for getting to and from the event? Parking is on site.First for early bird tickets. There is now plenty of local parking spaces.  What's the refund policy? To reduce admin this year - tickets are non-refundable and non-transferrable? We hope you understand - we are hosting for the benefit of everyone, voluntarily and not-for-profit.
BIG THANK YOU TO OUR SUPPORTERS ONVU Learning, Calls9, Lexonik, Scintilla, John Catt Educational, Deventio Education Schoolip and Telios Education. For all your programme information keep an eye out over at teachingrocks.co.uk - we try to keep email to a minimum.