1/04/2019 : Ar Krav Maga Level Foundation Course Beginners No
AR Krav Maga - Level 1 Foundation Course for Beginners 2019 (No:4)
Norwich
Norfolk (GB101)
Tel 2019-04-01
Categoria Events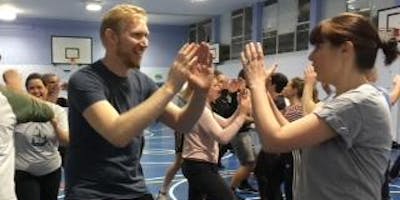 AR Krav Maga - Level 1 Krav Maga Foundation Course for Beginners Level 1: For complete beginners aged 17 + Duration: 12 weeks, one night a week for 90 Minutes plus an extra 30 minutes revision time at the beginning of some classes. Venue: The Owen Barns Room, Breckland Road, Costessey, Norwich, Norfolk, NR5 0RW (next to Costessey Library). Course Dates: Monday 1st April to Monday 1st July 2019 (every Monday (apart from the May bank holidays 6th & 27 May) from the 1st April to 1st July). Starting Time: 1900 to 2030 A General Overview of the Course: The AR Krav Maga Level 1 Krav Maga Foundation Course is designed for beginners with no previous experience in Krav Maga or Martial Arts. On the course, our Krav Maga instructors will teach you the fundamentals, theory and practice of Krav Maga Self-defence.
We will be teaching you how to avoid, prevent, de-escalate, escape and evade physical situations and if necessary how to defend yourself against all manner of common attacks. You will also learn key elements of UK Law in relation to self-defence. Our unique methods of instruction simulate the stress of a real attack without compromising your safety. The course will also improve your fitness, coordination, situational awareness, help reduce stress, as well as improve your overall sense of wellbeing and confidence. After the course you should be able to work towards your first grade in Krav Maga and/or go on to higher level courses or join our club should you wish to.  Even if you do not plan to pursue Krav Maga afterwards, the fundamental principles and techniques taught during the course will serve as useful tools in the future.    Fees: Each class costs approximately £10.80 which works out at just £130 for a 12-week term (Early Bird Discount £120).
In addition, students will need to provide their own safety kit (a Groin guard and Gum shield are minimum, the course will not be aggressive or violent in any way but safety must come first) students without these items will not be able to train. These items can be purchased by clicking here or you are free to search elsewhere.  These items are not expensive and due to their use, it isn't hygienic to hold and practical to share these items.  Monthly payment options via Direct Debit are available on request. This course is for you if any of the following apply: You have not done Krav Maga Self-defence or Martial Arts before but want by the end of the course to have made some new friends and ultimately wish to feel "Safer, Fitter, Smarter and be Always Ready".
  Do not apply for this course if you have a self-defence or martial arts background, you would be better suited to attending our trial class programme with the main classes Don't miss our "Gold Early Bird RSVP - I am really committed to learning new life-changing skills ticket" which just £120 to the first 12 lucky people. Click here to listen to what our students from the last course have there say about the course:  FAQs Is Krav Maga easy to learn and will it help me get fit? Due to its simplicity and straightforward approach, Krav Maga can be learnt by anybody.  Are there ID requirements or an age limit to attend the workshop? You must be over 17 years of age.   What can/can't I bring to the event? You can bring loads of energy and enthusiasm and leave any egos at the door.   Where can I contact the organiser with any questions? Email or Via our website.  Is my registration/ticket transferrable? Yes, but only for our next foundation course.  Can I update my registration information? Yes  Do I have to bring my printed ticket to the event? Yes.  What is the refund policy? Refunds are available up to 7-days before the course starts.
After that, you will only receive 50% of your original fee or have the option to transfer to the whole fee to the next course.  We want you training, not your money. The name on the registration/ticket doesn't match the attendee. Is that okay? No, the name on the ticket needs to match the name at registration, unless agreed with us prior. Can I just turn up and watch? No.   What should I wear? We suggest you wear a comfortable tracksuit, leggings, trainers and a t-shirt, bring some water, a hand-towel and prepare your self for a great time.  What about if I have to miss a night? No problem. Although we can not repeat the night you have missed we will go over material each week so you will catch up plus you are very welcome to make up the time lost by joining our main mixed ability or women-only classes for free.    What does the AR stand for? Well, we guarantee that, after a few classes with us, you will start to feel 'Safer, Fitter, Smarter and 'Always Ready'.