1/02/2019 : Shonaleigh Story Telling Weekend Tobias Snow Tear
Shonaleigh- Story Telling Weekend & Tobias and the Snow Tear
York
North Yorkshire (GB103)
Tel 2019-02-01
Categoria Events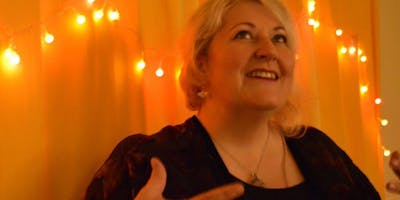 Shonaleigh is one of Europe's leading storytellers. Having learned the Drut'syla tradition from the age of four, she carries thousands of oral stories from the Jewish tradition and shares their magic, mystery and wisdom with audiences around the world. For many years, Shonaleigh has shared the techniques of the Drut'syla storytelling tradition with students from across the globe. However, she is probably the last carrier of this age-old tradition. The weekend form of Tellers, Tales and Tradition was dreamt up by Deborah Barker and Shonaleigh to create opportunities for the Drut'syla to tell a tale in full and for storyteller and listeners to experience these tales told in a more traditional form. As Shonaleigh re-members and re-hydrates the stories told to her by Edith Marks, there will be few weekends where these stories can be heard in full.
How does the weekend work? The group will be able to interact with the story as was originally intended. It is the listeners that request stories, journeying through the lattice along a path guided by their requests. You will also be able to ask questions directly about the stories and the environment in which they were told, from finding hidden trade routes locked within the tales to the reasons why a person might forgo a story in order to hear one of greater importance to the community. Shonaleigh is the only known Drut'syla and the weekend will be a revival of a culture almost lost. It will take place within a relaxed atmosphere with plenty of cushions and sofas and tea, coffee and cake provided at regular intervals. This is an unmissable opportunity for anyone interested in stories or in oral and lost cultures to come and help document and archive through listening, requesting stories and asking questions.
STORYTELLING TIMINGSThe telling will start at 7.30pm on Friday evening and recommence at 10.30am on Saturday 2 February 2019 and Sunday 3 February 2019. Arrival Tea and Coffee will be available from 10:00am on both Saturday 2 and Sunday 3 February 2019.  TOBIAS AND THE SNOW TEAR - 7.30PM, SUNDAY 2 FEBRUARY 2019 Told by Shonaleigh Tobias, father of The Diamond Girl, has his own story. One night his fate is linked forever with that of a Fire Wolf. We will journey with Tobias through seven trials, seven, stories, seven soul searing moments as he quests to redemn this soulless creature. Privacy Policy York St John University will use the data you submit in Eventbrite for the purposes of administering this event. York St John University utilises third party software for data storage, tracking and analysis activity but your details will not be used by any of these third parties in order to contact you Any data you share with us will be used to help us improve your event experience and for event tracking and analysis activity within the University.  We will only send you important information and reminders related to the event you have booked unless you tell us otherwise.
During the booking process, if you opt in to receive emails about the latest events hosted and supported by York St John University, you consent to York St John University contacting you with relevant information. If you no longer wish to hear from us you can opt out at any time by changing your contact preferences via the link in emails you receive from us or by contacting us: 
[email protected]
/01904 876654.